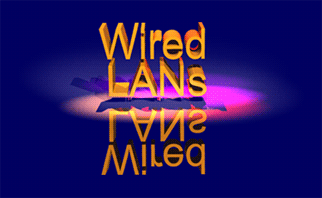 Local Area Networks (LANs) are widely used to allow Personal Computers (PCs) to share information and resources. A printer on a PC may be used by any other PC on the LAN. A fax queue can be used to send faxes from any PC on the LAN, and go out on one shared fax modem and phone line. Backups can be done from one PC and collect important data from other PCs on the LAN.
Danarily Design &nbsp can install wiring and interfaces to connect your business or home PCs in a LAN so you can share resources and files between PCs. Low-cost LANs operate at 10 Megabits per second (Mbps), much faster that DSL or Cable Modem Internet speeds. Many newer PCs come with 10/100 Mbps capability built-in. The wiring we install allow you to take full advantage of these high speeds on your private LAN.

There are no security worries with a private LAN. Someone would have to physically connect to your wiring to be able to get to your PCs. If you have Internet access, then there are important considerations that Danarily Design will explain in detail, and can fix. These considerations are present in your existing PC with Internet access, and the LAN doesn't make things worse.

Danarily Design provides installation, setup, and maintenance of Wired LAN systems. We offer two levels of service and can customize our services for you.

Level 1. Private LAN with no outside connections such as modems. Suitable for home offices and small businesses.

Level 2. Private LAN with one Internet connection (any type: dialup modem, DSL, cable modem). Suitable for home offices and small-to-medium sized businesses which may benefit from sharing their internet connection.


Request a free consultation using the
or call 954-275-7654
Serving Dade and Broward Counties in South Florida, USA
&nbsp