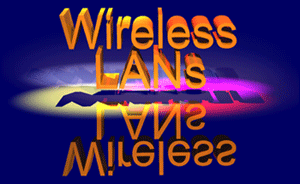 Wireless Local Area Networks (WLANs) are an economical way to connect Personal Computers (PCs) together without installing wires! Laptops gain the freedom to move around so you can bring your connection where you want to go.
Offices &nbsp benefit from WLAN connectivity by allowing resource sharing between PCs. Internet access can share one connection, printers connected to desktop PCs can be used by anyone on the WLAN. Wireless connectivity can be added to your existing wired LAN. Laptops can be carried into conference rooms enhancing customer discussions.
Waiting Areas, Cafes, or Lounges can provide Internet access through a shared connection.
Home use allows sharing the cost of a single Internet account (such as DSL or Cable) with any number of PCs in the house, patio, and pool areas.
Low-cost equipment provides approximately 100 meters (over 300 ft.) coverage from an access point. If you have a larger area, more capable equipment or more access points can be set up to let you move seamlessly within your areas. Share your high-speed Internet costs between many of your employee's PCs while providing added convenience to enhance their productivity.

Danarily Design provides installation, setup, and maintenance of Wireless LAN systems. We offer two levels of service and can customize our services for you.

Level 1. Suitable for many applications, provides out-of-the-box wireless LAN.

Level 2. Suitable for applications where information on your LAN must be controlled access. That is, only those wireless devices you allow my connect to your system. Casual or intentional eavesdropping is also prevented by using encryption technology.


Request a free consultation using the
Or call 954-610-0639
Serving Dade and Broward Counties in South Florida, USA
&nbsp